Anxiety Treatment In Appleton, WI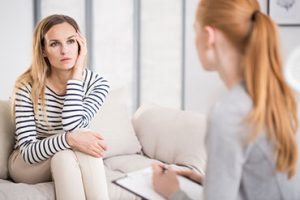 Anxiety relief. Doesn't that sound amazing? Living with anxiety doesn't have to be a struggle.
In fact, you can take control of your anxiety and train your brain to think in different ways. Through anxiety treatment, you will get to the root cause of your anxiety and find ways to cope with it on a daily basis.
You'll also learn how to reduce the severity of anxiety and how to prevent panic attacks.
The process starts with a phone call to one of our Appleton, WI therapist offices at 920-733-2065. One of our friendly staff members will gladly assist you.
Individualized Counseling Adjusted To Fit Your Needs
Anxiety treatment is as unique as your experiences. That's what we stand by at Sherman Counseling in Appleton, WI. Your symptoms, triggers, lifestyle and coping mechanisms are unlike anyone else's. During anxiety therapy, your therapist will tailor your counseling to fit those elements. We have seen tremendous success with our anxiety treatment programs because of this individualized approach, and we look forward to providing that service to you.
Anxiety Treatment Designed Just for You
Identify Your Anxiety Triggers and Learn How to Cope with Them
EMDR, TF-CBT and Other Specialized Counseling Services Available
Save Money with Transparent Appointment Pricing – We Verify Your Insurance and Out-of-Pocket Costs before Your Appointment
Proven Anxiety Treatment Programs with High Referral Rates
Effective Stress Management Tips from a Leading Anxiety Therapist in Appleton, WI
No Time-Consuming Pre-Authorizations or Lengthy Referral Forms
Affordable Anxiety Counseling in a Judgement-Free Setting
To schedule an appointment with an anxiety therapist near you, contact Sherman Counseling in Appleton, WI. We have next week and sometimes next-day appointments available, so you can start your treatment right away.
Start Your Anxiety Treatment As Early As Tomorrow!
We offer flexible scheduling options to accommodate your busy lifestyle. Sherman Counseling is an unaffiliated outpatient center in Appleton, WI, which means we don't have to abide by a strict referral process. There are no lengthy pre-authorization to go through. You just schedule an appointment and see a counselor. Anxiety treatment shouldn't be a stressful process, and we do all we can to ensure it's not.
Fast-Acting Anxiety Relief And Long-Lasting Anxiety Treatment | Call Sherman Counseling To Schedule An Appointment In Appleton, WI

Contact Sherman Counseling
Call 920-733-2065 and speak with one of our friendly intake specialists, or email us using the form below: