Child Counseling Near Greenville WI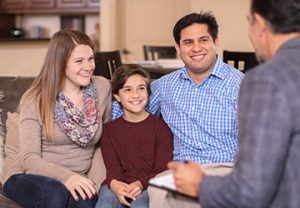 Sherman Counseling provides mental health services for adolescents, children, teens and adults. We offer affordable child counseling near Greenville WI, along with a range of counseling services for families. If your child is struggling in school, in social settings or at home, counseling may be a great option for you. This will teach your child communication tools and coping strategies he can turn to time and time again.
Each Child Is Matched with the Best Counselor for His or Her Needs
Our Child Counseling Services Fit Many Insurance Plans
There Is No Pre-Authorization Required
You Can Get Matched with a Child Therapist Right Away
Our Child Psychologists Receive Many Referrals from Local Schools and Doctors
Your Child Will Receive Personalized Counseling Suited to His/Her Age and Development
Appointments are available Monday through Friday from 8:00 AM to 5:00 PM. Each therapist sets their own schedule, so special accommodations may be arranged. Give us a call at 920-230-2065 to learn more about our child counseling services.
Help Your Child Through Challenging Life Transitions
Children do not process emotions and memories the same way adults do. Many of them do not have the emotional development to handle grief, stress, family conflicts, etc. Children also struggle in life transitions, such as moving to a new school or getting a new sibling. They may act our or become withdrawn because they do not know how to communicate their feelings.
That's where child counseling comes in. The therapist can help your child better understand his feelings and overcome the difficult ones. You, the parent, can also learn ways to create a positive environment for your child's unique needs. If you would like a consultation for child counseling near Greenville, call 920-230-2065.
Counseling Solutions For Every Member Of The Family
In an effort to keep our counseling services affordable, we accept many forms of insurance. This includes plans from BlueCross BlueShield, WPS Health Insurance, WEA Trust, Arise Health Plan, Aetna, Common Ground Healthcare Cooperative, Humana, Network Health, and other providers. Your family can choose from a range of therapy programs, including:
Family Counseling
Teen Counseling
Child Counseling
Couples Counseling and Marriage Counseling
Premarital Counseling and Divorce Prevention
Depression Counseling and Anxiety Counseling
Anger Management
Grief and Trauma Counseling
Medication Management
And Other Counseling and Psychiatry Services near Greenville WI
If You Would Like More Information About Child Counseling Near Greenville WI, Call 920-230-2065

Contact Sherman Counseling
Call 920-733-2065 and speak with one of our friendly intake specialists, or email us using the form below: