Child Psychologist In Appleton WI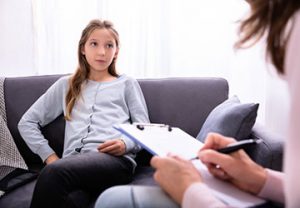 Looking for a child psychologist in Appleton WI? Sherman Counseling is a family-friendly counseling group therapy for all ages. Our providers use evidence-based techniques that are personalized for each individual. Your child will receive mental healthcare that is tailored to him or her.
Sherman Counseling accepts many forms of insurance, including plans from Common Ground Healthcare Cooperative, Arise Health Plan, Aetna, WPS Health Insurance, Network Health, BlueCross BlueShield, WEA Trust, Humana, and other providers. We will gladly verify insurance before your first appointment with the child psychologist. Most families only have a small co-pay for appointments. Call 920-230-2065 to reach one of our Appleton WI counseling centers.
When Is The Right Time To See A Child Psychologist?
Parents usually contact us about child counseling because their child has displayed social or behavioral issues. However, that's not the only time to consider seeing a child psychologist in Appleton WI. Child therapists can help children adjust during a difficult life transition, such as a new baby in the house, parent's getting divorced, or the loss of a loved one. Here are some good times to seek child counseling:
After a Traumatic Event, Such as the Loss of a Loved One
After Divorce, Separation, or Other Life Changes
After Unexplained or Uncharacteristic Struggles at School
When You Notice Signs of Anxiety or Depression
After Behavioral Changes, Such as Defiance or Social Isolation
Before, During or After Family Conflicts
Any Time – There Is No Harm in Seeing a Child Psychologist in Appleton WI
If you would like to schedule an appointment with a child psychologist, call 920-230-2065. We have several child therapists in Apple WI, along with family counselors, teen counselors and couples counselors. We will match you with the best provider(s) for your family.
See A Child Psychologist Right Away
We do not have an extensive authorization program to go through. Most clients are able to see a therapist within the same week or the following week. We have appointments available Monday through Friday, and we can find a time to accommodate your family.
Get Matched With A Child Psychologist In Appleton WI | Call 920-230-2065

Contact Sherman Counseling
Call 920-733-2065 and speak with one of our friendly intake specialists, or email us using the form below: