Marriage Counseling In Green Bay, WI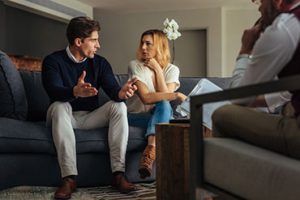 Your marital struggles are private matters, but it's not always easy to get through them on your own. You could turn to friends or family members for guidance, but they will have a biased view of the situation.
A better and more effective solution is to work with a professional marriage counselor. You and your spouse can discuss your concerns, work through your differences and overcome longstanding conflicts in your relationship.
Sherman Counseling provides confidential and affordable marriage counseling services in Green Bay, WI. We have several couples counselors in the Green Bay area, each with a unique specialty in marriage counseling, premarital counseling or divorce prevention.
To schedule an appointment or to learn more about our therapists, call 920-544-5294.
Confidential Marriage Counseling Personalized For You And Your Spouse
Every couple has their own issues, whether it be a lack of trust, poo communication, codependency, personal insecurities, or something more. These factors influence the type of marriage counseling you can benefit from. That's why we personalized our therapy programs for each couple. Your marriage counselor will learn about your needs as individuals and as a couple, and then he or she will provide advice tailored to you.
Your Privacy Is Always Protected
Work through Marital Disputes with the Guidance of a Marriage Counselor
Get to the Root of Your Problems – Low Self-Esteem, Stress, Codependency, and More
Let Your Feelings Be Known
Gain a Better Understanding of Your Spouse's Concerns
Learn the Right Way to Argue – Discuss and Solve Your Problems in a Respectful Manner
Build Trust in Your Relationship and Strengthen Your Bond
Find Ways to Spend Time Together, as a couple and as a Family
Get Matched with the Right Marriage Counseling Expert for Your Relationship
To schedule an appointment for marriage counseling in Green Bay, WI, call 920-544-5294.
Premarital Counseling In Green Bay, WI
Prepare yourself for marriage before walking down the aisle. With premarital counseling, you can learn how to communicate with one another and resolve conflicts before they escalate. You can also prepare for the stress of marriage, including bill payments, financial obligations, household obligations, and more. If you would like to continue with marriage counseling after your wedding day, we would be happy to help you. Contact our Green Bay, WI counseling center to get matched with the best marriage therapist for you.
Schedule A Marriage Counseling Appointment Quickly And Easily | Call 920-544-5294
Contact Sherman Counseling
Call 920-733-2065 and speak with one of our friendly intake specialists, or email us using the form below: