Therapist In Green Bay, WI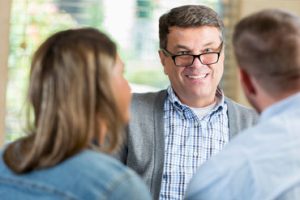 There are many reasons to see a therapist, from personal struggles to relationship conflicts and more. Your mental health is just as important as your physical health, and a therapist can help you improve your mental health.
Whether you're dealing with depression, anxiety, grief, stress, anger, or something else, the team here at Sherman Counseling is here to assist you. Our therapist office in Green Bay, WI has flexible hours and affordable pricing. You can schedule an appointment with a therapist near you by calling 920-544-5294.
Specialized Therapy. Personalized Care. Affordable Pricing.
The success of your therapy depends largely on the therapist that you are set up with. Here at Sherman Counseling in Green Bay, WI, we match each client with a specialist suited for his or her needs. If you and your spouse are having difficulties, we'll pair you with a marriage counselor or divorce prevention specialist. If you are having unexpected panic attacks, we will pair you with an anxiety therapist. We have experts in nearly every area of mental health, including:
Anxiety Treatment
Depression Treatment
Grief Counseling, PTSD Counseling and Trauma Counseling
Child Counseling and Teen Counseling
Specialized Therapies, Such as EMDR, TF-CBT, Brainspotting, Biofeedback and Mediation
Infant Mental Health Services for Children 18 Months to 3 Years Old
Psychological Testing and Evaluation
Chronic Pain Management
Marriage Counseling, from Premarital Counseling to Divorce Prevention
If you would like to work with a therapist in Green Bay, WI, call 920-544-5294. The call is confidential, and there is no obligation.
See A Green Bay Therapist Quickly And Easily
Sherman Counseling is an unaffiliated therapist office, which means that we set the rules for how we work with clients. We are not required to perform lengthy pre-authorizations that are often a waste of time and money. Because of that, we can schedule an appointment as soon as the next day, depending on which therapist you need to see. Contact our Green Bay office to start your therapy as soon as possible.
If You're Ready To Talk To A Therapist In Green Bay, WI, Call 920-544-5294 To Schedule An Appointment

Contact Sherman Counseling
Call 920-733-2065 and speak with one of our friendly intake specialists, or email us using the form below: